Small Networkers Jump Aboard for Profitable Ride
By Robert Ricker / MLM World News Today / March 28, 2001
Thrashing about wildly on the back of a 2000 pound beast isn't the average person's idea of a good time, but William Poulos thinks otherwise. Poulos, was an IRA World Champion Bronc rider. He has an uncommon finesse when riding "unbroke" horses and he's brought this same talent to his new position as Operational Director of the Silver Bull Travel and Trading Club.
After nine months of planning and refining, Silver Bull has launched a program destined to be the largest travel and trading club in the world. The program, eerily familiar to one put together by The Payline, promises its members one important element that Payline seemed to overlook. People helping people.
William Poulos comments sincerely, "When you look at this program, keep in mind you are really looking at people. People make companies a success or a failure. We don't use auto-responders. We have staff members answer questions, sometimes responding within fifteen minutes. A lot of the other companies are having a problem responding in a week."
But few of Silver Bull's responses involve answering complaints. On the contrary, people are requesting more information on how this new travel and trading club can provide them with both, cash commissions and valuable points that can be used to purchase a variety of items through the company's auction program. Many people, who aren't interested in being the 300,000th person stacked in the Payline, see an opportunity to be on the cutting edge of a new similar opportunity.
But how is Silver Bull different from the Payline'
"Silver Bull is trying to do two things very well," says Darrel Poulos, William's brother and Managing Director of Silver Bull Holding Company in the United Kingdom. "One thing is to have a good commissions program that attracts people into the program and gives them the freedom to make money. It doesn't matter whether they're big operators or small networkers. We have also tried to come up with a program that has enough of a mixed format that provides good quality services that people actually want in terms of being members of an organization. It is not just travel but also the Silver Bullion Program and the Auction Program that make the Silver Bull program different."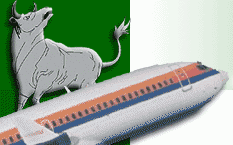 Real Audio Interview
"I think our compensation plan is different from the Payline," adds Willam Poulos. "Also the big difference between our program and their program is our diversification with our auction site. It enables us to do a lot of things and we think it will be the biggest part of our program."
Miles and Points
Miles or Points, same concept different name. Both the Payline and Silver Bull reward their members for joining, and also add one Mile or Point for each person that joins after them. What matters is the inherent value of each one of those points and miles. During the Mexican peso crisis of 1994 –1995, Mexican citizens holding millions in "Old Pesos" suddenly found their cash devalued by over 50%. They literally had barrels of valueless money.
Payline is offering its members 25,000 Bonus Miles if they introduce 5 new members to the program by April 12th, 2001. The 100 Points offered to Silver Bull members after inviting 2 new members is dwarfed in the comparison. But remember pesos and dollars, currently almost a 10 – 1 ratio.
Payline itself says, "Many airlines require as many as 25,000 miles for a short return trip, and there is a strictly limited number of mileage rewards seats available on each flight. Once they're gone, so is your chance to fly free."
Where as the value of Miles are directly related to how far you can go, the value of Points can also be measured in Silver Medallions.
"Silver Bull members who have failed to sponsor two or more new members into the program and have not been successful at being the highest bidder in the company's auction program, may in the last 30 days of their one-year membership period (if they are not going to renew their annual membership) convert their point balance for six one- ounce silver medallions."
"These uncirculated Silver Medallions retail for an average of $29.50 US. Six times $29.50 equals $177.00. Not counting the $19.95 Associate setup fee, if you did nothing else, you would be out just $12.00 plus shipping after receiving your six Silver Medallions. Remember, that's if you do absolutely nothing after signing up. If you are able to recruit two members, you earn cash commissions and qualify for air travel."
Almost equal to a money-back guarantee if you join the program.
Show Me The Money
Payline members received their first paychecks this week according to information posted on the company website. The payout was over one million dollars in bonuses the first day with the smallest check slightly over $200 and the highest around $3000. That's always a good sign.
Both Silver Bull and the Payline payout 50% of every dollar collected from membership fees, but use different formulas for determining individual payouts. Each member you introduce to the Payline earns you one point in their Cash Bonus Pool. Your points are divided by the total points in the pool to determine your percentage (%) share of the cash in the pool. This percentage value is used to calculate the actual dollar amount deposited daily into your PayLine Cash Balance Account.
Silver Bull pays out 80% of 100% of commissions to all qualified members but rewards its top 100 networkers with something more. Those top people who work the program diligently receive equal shares of 10% of the 100% paid for commissions. The top 500 networkers also split a 10% share of 100% of commissions. The top 100 networkers are allowed to "double-dip" into this pool as well.
Of course there is fine print in both programs. Members need to remain qualified to participate and the lengths of times you are qualified vary. Due diligence is required before joining either program.
The Payline party appears to have become a standing room only event. Silver Bull has cleared a room with plenty of space for new members to come in and take a seat. The Silver Bullion Program and the Auction Program are door prizes to the Air Mile main event. But seats are filling up fast.
Are you ready to "take the Bull by the horns."