Email the link to this page to your friend

Why I think Mobile Phone Credit Card will storm the market in the next few years?
Mobile Money is accepted as one of the Payment Channels under Paybillsmalaysia.com for payment of monthly bills e.g. electricity, telephone/internet and water. Service at Paybillsmalaysia.com is Free just like paying at any Post Office. Money Money Credit Card can serve as any other credit cards such as Visa & Mastercard, but is accepted in Malaysia only through thousands of local participating Merchants.
Mobile Money Security
Mobile Money Centre has its own 6-digit Security PIN, and your mobile SIM card acts as a security access card. In addition to the Mobile Money 6-digit Security PIN, you get 8 additional levels of security, meaning your money is protected by no less than 9 levels of security at all times. To ensure that this security system is not compromised, Mobile Money can only reveal details on the first 4 levels.
Level 1 - Mobile Money SIM card security
Mobile Money centre identifies you through your mobile SIM card. No transaction can take place unless confirmed through your SIM card. The security level of your SIM card is so good that it's comparable to any other Automatic Teller Machine card. Better yet, it's always hidden in your phone, safe from prying eyes.
Level 2 - Mobile Money Security PIN protection
You are given 6-digit security PIN to key into your mobile phone to actively approve Remote Payment requests made by billers (such as utility bills/insurance companies) before payment takes place. This level of protection is similar that of your normal Automatic Teller Machine PIN.
Level 3 - Instant feedback
Mobile Money immediately provides you with an instant report every time you make a payment, whether through eCash or by approving payment requests via the security PIN. This means that you will know immediately if there is an error or unauthorized payment.
Level 4 - Instant deactivation
If your mobile phone is lost, you will know it almost right away. Call Mobile Money centre immediately and your accounts will be deactivated and no transaction can go through. Calling your Celcom (Cellular Communication) to stop the line will have the same effect, but Mobile Money centre requires you to notify them to take the proper security measures.
Get Paid for introducing the free services to your friends. No product selling! How the over-riding commission works?
The concept is to get 5 friends to work with you and not for you. That is all you need with the knowledge of Power of 5 and the latest mobile phone technology being harnessed for security, convenience and rewarding. Register yourself as an user, train your 5 friends and request them to duplicate the process. By the fifth level, you have a team of 3,125 members. Then the sixth level split off from you and thus this is not an illegal pyramid scheme nor multi-level marketing -- basically 5-level team work.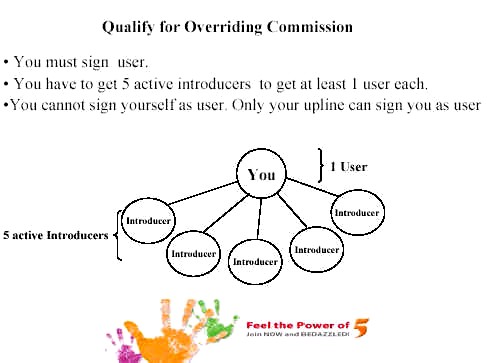 The Power of 5 offers 2 incomes for an user and introducer

Income 1
Level

Users

Introducer's Fee

Amount Payable
1

5.00

4.00

20.00
2

25.00

4.00

100.00
3

125.00

4.00

500.00
4

625.00

4.00

2,500.00
5

3,125.00

4.00

12,500.00

15,620.00
Condition: To receive RM4, each user have to apply for Hong Leong Bank Mobile Money Credit Card and approve by Hong Leong Bank

Income 2
Level

No. of

Users

*Over-riding Comm

Amount Payable

1

5.00

10.40

52.00
2

25.00

10.40

260.00
3

125.00

10.40

1,300.00
4

625.00

10.40

6,500.00
5

3,125.00

10.40
32,500.00

40,612.00

Total Expected Income:
56,232.00
Condition: To receive over-riding commission, each user have to get 5 users and introducers, and he/she himself must be an user

*Over-riding Commission is based on Group Spending with break down as shown below.

Power of 5

Member's Usage
Rate

Each Comm

Total Benefit

5

6,500.00
0.16%

10.40

52.00

25

6,500.00
0.16%

10.40

260.00

125

6,500.00
0.16%

10.40

1,300.00

625

6,500.00
0.16%

10.40

6,500.00

3,125

6,500.00
0.16%

10.40

32,500.00

40,612.00
Send a message to Mobile Money Centre for free registraton as user and introducer by using this code:
link#<upline HP>#<Your Name>#<Your NRIC>#HLB#U#I
eg. link#0168566953#AH BENG#531102135678#HLB#U# I
AND SMS TO EITHER ONE NUMBER
019-3866123

012-4166123

016-4466123

66123
Then follow the Instructions in the auto response to your mobile phone.
You may contact me if you need some assistance on mobile phone free registration to use it as an eCredit Card. This applies to Malaysian residence only. For more details, please visit the official website by clicking on the logo.