| | |
| --- | --- |
| The PayLine - Travel & Lifestyle Club | |

Press Ctrl + D to bookmark / add to favorites.
---
The PayLine, Inc. is the only company that offers free air miles and cash rewards daily. Its membership is opened to both U.S. and non-U.S. citizens. The PayLine, Inc. is officially launched on 11-3-2001 and has commenced paying cash reward effective from 26-3-2001. Their headquarters is located within the FitnessAge complex in San Diego, California at 4250 Executive Square, Suite 101, La Jolla CA 92037, USA. The photograph below shows the building of The FitnessAge Inc. To see its locality in relation to the world, click on the photo.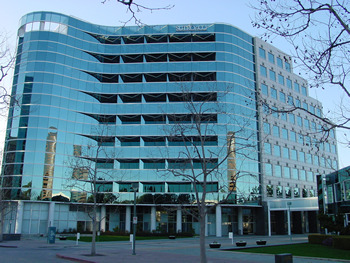 The concept of The PayLine is to eliminate the high out-of-pocket cost of airline travel by creating a revolutionary referral-based Air Travel Rewards program, and allows you to earn money by referring new members to the company.
The entire company is built on a linear referral link of a straight-line of referred members. The PayLine rewards you based on 2 criteria that is how fast you can make a decision, and how many members you can refer.
In order to begin earning cash rewards, you must refer at least 2 new members to the company. From the second you qualify, you may receive up to a maximum of $500 a day. The formula for calculating the daily cash reward is equaled to the Number of referral points (1 point = 1 new member enrolled by you) you have, multiplied by 50% of the Total Membership Sales made by the company and divided them by the Total Points in the Cash Bonus Pool on that day.
For 2 active members, it qualifies you for 30 days of earnings. In order to increase the number of days you are able to earn cash, you simply continue to refer new members. For every additional active member you refer, The PayLine, Inc. will extend your earning time by 30 days.
In addition to cash rewards, you will receive one bonus air mile for every new member who enrolls after you. Each new member immediately receives an instant 500 air travel miles upon enrollment. Your travel miles are usable as soon as you activate and qualify your account.
You will get 5,000 PayLine Miles for each personal sale.
The membership fee plus Affiliate fee is US$229.25. However, the PayLine will give each applicant 15 days to submit payment, which allows you to lock in your membership immediately without worrying about the initial cost and an opportunity for a free trial on this radical rewards system.
As a member, you can check your online account to instantly find out how many air miles and how much cash you have earned, as well as to request for payment and to redeem your air miles. You'll simply click the "Member Login" button on the website and enter your e-mail address and password.
Free Trial 15 days!. You can enroll right now for a period of 15 days trial before you decide whether or not to activate your membership as a full member. Immediately after your enrollment, you can start referring others and watch your account grow. On or before the 15th day from the date of enrollment, you may be notified to pay the membership fee. At that time, you can decide whether or not you want to become a full member.
There is no commitment for signing up today, and you'll hold a position to maximize your earnings. So don't delay… the earlier you enroll, the more you'll earn. When enrolling, you may use this nominated email address lindatingbb@yahoo.com as your referrer.


For further details, click here To enroll now, click here!
Copyright © 2001 Andrew Sui. All Rights Reserved.